Event date:
Wednesday, May 2, 2012 - 7:00pm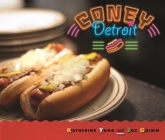 $29.99
ISBN: 9780814335185
Availability: Usually Ships in 1-5 Days
Published: Painted Turtle Book - April 1st, 2012
Coney Detroit showcases such Metro Detroit favorites as American Coney Island, Lafayette Coney Island, Duly's Coney Island, Kerby's Coney Island, National Coney Island, and Leo's Coney Island. As Yung and Grimm uncover the secret ingredients of an authentic Detroit coney, they introduce readers to the suppliers who produce the hot dogs, chili sauce, and buns, and also reveal the many variations of the coney—including coney tacos, coney pizzas, and coney omelets. While the coney legend is centered in Detroit, Yung and Grimm explore coney traditions in other Michigan cities, including Flint, Jackson, Kalamazoo, Port Huron, Pontiac, and Traverse City, and even venture to some notable coney islands outside of Michigan, from the east coast to the west. Most importantly, the book introduces and celebrates the families and individuals that created and continue to proudly serve Detroit's favorite food.

Not a book to be read on an empty stomach, Coney Detroit deserves a place in every Detroiter or Detroiter-at-heart's collection.
---