Groundhog's Dilemma
Kristen Remenar – author
Matt Faulkner – illustrator
Author:
Kristen Remenar is a children's librarian, writer, teacher, and national speaker on literacy. She is married to author/illustrator Matt Faulkner. This is her first picture book.
Illustrator:
A graduate of Rhode Island School of Design, Matt Faulkner has written and illustrated a number of children's books. His work has won wide praise for its humor, exuberance and sensitivity. In addition, he is a contributing illustrator to such national periodicals as The New York Times, The Wall Street Journal and Forbes. Matt is married to author and children's librarian, Kristen Remenar. They live with their 3 kids and 3 cats on the lower right corner of the Michigan mitten. He teaches illustration at the Art Academy University in San Francisco
Event date:
Sunday, February 21, 2016 - 3:00pm
Event address:
Westgate Shopping Center
2513 Jackson Avenue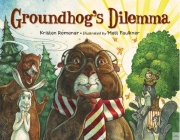 $16.95
ISBN: 9781580896009
Availability: On Our Shelves Now
Published: Charlesbridge Publishing - December 1st, 2015
After Groundhog announces six more weeks of winter, half his animal friends are disappointed, while the other half are excited. Each animal asks Groundhog to make his prediction in their favor the following year. Rather than being truthful about the fact that he just "calls it like he sees it," he leads them to believe he can control the weather, accepting their gifts of food and favor. On the next Groundhog Day, he finally admits he made promises he couldn't keep because he was trying to please everyone and makes amends.
---