Book Launch Party with Shutta Crum and Rhonda Gowler Greene
Join us for a book launch party for all ages for two fantastic Michigan picture book authors! There will be refreshments, prizes, and stories, presented by Shutta Crum -- celebrating the release of her most recent book, Mousling's Words -- and Rhonda Gowler Greene, whose most recent title, Let's Go ABC!: Things that Go, from A to Z, released on May 15th.
Shutta Crum, formerly a librarian, currently writes full time. Among other picture books, she is the author Thunder-Boomer (Clarion), which received four starred reviews, was nominated for a Cybil Award, and was an SLJ Best Book, a Smithsonian Magazine Notable Book, and an ALA Notable Book. Shutta was born in Paintsville, Kentucky, and lives with her husband in Michigan. Her website is www.shutta.com.
Rhonda Gowler Greene is the author of more than twenty children's books. A former elementary school teacher, Rhonda holds a master's degree in educational media. Among other honors, her books have been named a School Library Journal Best Book, an International Literacy Association Children's Choice Book, and a Bank Street College Best Book. She lives in West Bloomfield, Michigan.
Event date:
Sunday, June 24, 2018 - 2:00pm
Event address:
Westgate Shopping Center
2513 Jackson Avenue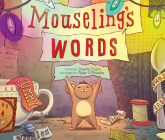 $16.99
ISBN: 9780544302167
Availability: On Our Shelves Now
Published: Clarion Books - December 5th, 2017
Praise for Mousling's Words
"This earnest and encouraging title fits on the shelf of books for book- lovers, with just a bit of cat-and-mouse drama thrown into the happy-ending narrative." — Booklist

"...A tribute to the way books can unite even the unlikeliest of friends." —Publishers Weekly

About Mouseling's Words
In this lively introduction to the pleasure of words, a timid young mouse's first trip out of the nest becomes a reading adventure. Mouseling has grown up surrounded by words, scraps of paper torn from menus. Once he leaves the nest, he decides that discovering words is his mission in life and finds more words than he can count, spelling and sounding them out, thrilled by each one. The library offers a treasure trove of words, also danger: a cat. When Mouseling realizes that the cat would rather know what's in the books than eat him for dinner, he starts reading aloud to the cat—the best gift he can give in exchange for the world of stories.
---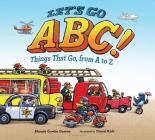 $16.99
ISBN: 9780802735096
Availability: Usually Ships in 1-5 Days
Published: Bloomsbury Children's Books - May 15th, 2018
Praise for Let's Go ABC!: Things that Go, from A to Z
"Creative and appealing . . . Each page consists of a singsonglike rhyme that makes for a jovial readaloud." - School Library Journal

"The featured letters are often incorporated into the vehicles or other parts of Kirk's appealing digital illustrations, but when kids realize that the amiable, dressed-animal characters also represent those letters, naming them adds to the fun. . . . A versatile, enjoyable picture book for kids enthralled by vehicles." - Booklist

"It's the interactions among the cast of animals that generate the fun in the full-spread illustrations. There are lots of vehicle-themed alphabet books, but very few are as all-inclusive as this one is." - Kirkus Reviews

About Let's Go ABC!: Things that Go, from A to Z
The alphabet comes to zooming, vrooming life with vehicles for every letter, A to Z! A big, boxy bus drives up for letter B, a kayak floats by for letter K, and a rocket blasts off for letter R. A fun and thrilling range of planes, trains, automobiles, and more take readers on a ride through this charming early-learning book.

Beloved picture book author Rhonda Gowler Greene and illustrator Daniel Kirk join forces for another classic rhyming story for every fan of things that go!
---