Join award-winning photographer and writer David FitzSimmons in exploring amazing, up-close worlds of common North American animals—from butterflies and birds to frogs and flying squirrels. With the help of the audience, David will perform parts of his new picture book, "Curious Critters," Children shriek like a hawk and call like a frog, hop like a frog and slither like a snake. Learn how butterflies drink, ways mammals fly, and why frogs sing. Show includes puppets and take-home activities for all children!
David FitzSimmons is a free-lance photographer and writer as well as a university professor. David photographs and writes for various magazines, including Outdoor Photographer, Popular Photography, and Shutterbug, newspapers, and online publications. His 100+ calendar credits include numerous titles by BrownTrout and Barnes & Noble. Dave currently is at work on a handful of books. His most recent books include Animals of Ohio's Ponds and Vernal Pools (Kent State UP) and Curious Critters (Wild Iris, September 2011). 
One of five Sigma Pro photographers in North America, David presents seminars and workshops to a wide variety of audiences, from public school groups and college classes to nature centers and civic organizations. His works have been exhibited at the Roger Tory Peterson Institute and the National Center for Nature Photography, and the Telluride Photo Festival, among other venues. David, a former high school English teacher, has been teaching for 20 years. He is a professor at Ashland University, Ashland, Ohio. He holds a Ph.D. in English from Ohio State University, with a specialty in narrative theory—investigating the components of storytelling—something that influences his photography and writing.
Dave was inspired to photograph and write about nature by his parents, Mick and Judy FitzSimmons, active environmentalists and life-long teachers, and he is assisted in his natural history endeavors by his wife, Olivia, a naturalist, and his two daughters, Sarah and Phoebe.
To see more of Dave's work and to know more about seminars and photo workshops, visit  www.fitzsimmonsphotography.com
Some photos from the book -
Eastern Screech Owl
Southern Flying Squirrel
Event date:
Saturday, March 30, 2013 - 11:00am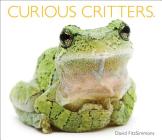 $19.95
ISBN: 9781936607693
Availability: On Our Shelves Now
Published: Wild Iris Publishing - November 2011
Photographer David FitzSimmons turns his camera on a variety of animals common throughout North America. CURIOUS CRITTERS presents stunning images of everyday animals, including a red flat bark beetle, an Eastern spiny softshell turtle, a spotted salamander, and many other intriguing creatures. Each Curious Critter is photographed against a white backdrop, showcasing the animals' colors, textures, and shapes with precision and clarity. Along with each photo is a vignette, told from the critter's perspective, that educates and entertains. For example, a bush katydid explains her bubblegum-pink color, a poetic opossum opines upon her often-shortened name, and a far-from-modest black swallowtail butterfly lets readers in on her secret for avoiding predators. Young readers especially boys will delight in these colorful creepy crawlers and their tales.
---