Adam Mansbach is an American author, and has previously been a visiting writer and professor of literature at Rutgers University-Camden, with their New Voices Visiting Writers program.  An inaugural recipient of the Ford Foundation's Future Aesthetics Artist Grant, Mansbach was also a 2012 Sundance Institute Screenwriting Lab fellow and the recipient of the Indian Paintbrush/Sundance Institute Feature Filmwriting Grant. The 2009-2011 New Voices Professor of Fiction at Rutgers University, he founded, edited and published the pioneering 1990s hip hop journal 
Elementary
 and spent several years traveling as a drum technician with the Elvin Jones Jazz Machine. His fiction and essays have appeared in 
The New Yorker, The New York Times Book Review, Esquire, The Times of London
, 
The Believer, N+1
, 
The Los Angeles Times
, 
The Boston Globe
, and on National Public Radio's All Things Considered.
Event date:
Monday, March 4, 2013 - 7:00pm

$26.95
ISBN: 9780670026128
Availability: Hard to Find
Published: Viking Books - January 10th, 2013
Welcome to the Great American Graffiti Novel

Number one New York Times bestselling author Adam Mansbach returns with a blockbuster tale of revenge, redemption, and the world's most beautiful crime. Dondi Vance is the son of two famous graffiti artists from New York City's "golden era" of subway bombing. Recently kicked out of his prestigious prep school for selling weed—and his mother's Brooklyn apartment for losing his scholarship— he's couch-surfing his way through life, compulsively immune to rumors that his long-lost father, Billy Rage, has returned after sixteen years on the lam.
 
But Dondi's old man really is back—what's left of him, that is. A wizened shell of his former self, Billy is still reeling from a psychic attack by an angry sha-man in the Amazon basin when Dondi finds him at the top of a pseudo-magical staircase in DUMBO. The uneasy reunion comes just in time: Anastacio Bracken, the transit cop who ruined Billy's life and shattered his crew back in 1987, is running for mayor. Only by rallying the forgotten writers of the eighties for an epic, game-changing mission can Billy and Dondi bring Bracken down.
 
In this mind-bending journey through a subterranean world of epic heroes, villains, and eccentrics, Adam Mansbach balances an intricately plot­ted, high-stakes caper with a wildly inventive tale of time travel and shamanism, prodigal fathers and sons, and the hilariously intertwined realms of art, crime, and spirituality. Moving throughout New York City's unseen com­munities, from the tunnel camps of the Mole People to the drug dens of Crown Heights, Rage Is Back is a kaleidoscopic tour de force from a writer at the top of his game.
---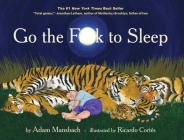 $14.95
ISBN: 9781617750250
Availability: Usually Ships in 1-5 Days
Published: Akashic Books - June 14th, 2011
"Nothing has driven home a certain truth about my generation, which is approaching the apex of its childbearing years, quite like this."
--The New Yorker

"A parenting zeitgeist"
--Washington Post

"A hilarious take on that age-old problem: getting the beloved child to go to sleep."
--National Public Radio

"A new Bible for weary parents"
--New York Times

"Resonates powerfully with almost everyone"
--Boston Globe

Go the F*** to Sleep is a bedtime book for parents who live in the real world, where a few snoozing kitties and cutesy rhymes don't always send a toddler sailing blissfully off to dreamland. Profane, affectionate, and radically honest, California Book Award-winning author Adam Mansbach's verses perfectly capture the familiar--and unspoken--tribulations of putting your little angel down for the night. In the process, they open up a conversation about parenting, granting us permission to admit our frustrations, and laugh at their absurdity.

With illustrations by Ricardo Cortes, Go the F*** to Sleep is beautiful, subversive, and pants-wettingly funny--a book for parents new, old, and expectant. You probably should not read it to your children.
---